I realized today that I haven't actually posted any updates as to my current projects, and have really only posted small articles on procedural generation (which is just as cool), so I thought I would take a bit of time and update people on what I'm working on. A lot of the stuff I can't go into much detail, but I can at the very least post some screenshots and say that I AM working on stuff.
Main Project
The last several weeks have been spent working on a procedurally generated bug game, that I can't talk too much about at the moment. I'm working on this with my Brother, Liam. He's doing all the art and music, and I'm programming it. Our progress had slowed down for a bit as both of us were busy with other things in our life, but lately we've picked up progress again and are moving steadily ahead.
Though I'm not going to go into a lot of detail, I will post a screenshot. A few things to note is that a lot of this is still very much WIP, most obviously the player (he's being recreated completely at some point).
Prototypes
The last few days I've also been working on a new prototype with Alec Holowka and Tom Rab, which is quickly taking shape and becoming interesting. I don't want to talk about it too much either, but it's generally going to be some form of a turn-based strategy platform game…. if it fleshes out.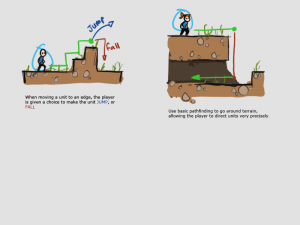 Mocking up some of the commands
Websites and Other
I've also been working on a bunch of websites over the last several weeks! The one I most recently finished was the brand new Flash Punk website, as the previous one was getting fairly outdated and desperately needed a fresh look.
Still a ways off
Liam and I are also starting to plan out a game we want to make later this summer – hopefully after our bug game is completed. I've posted a few things about this earlier, and we still fully intend to make this game a reality. We figure that this game is going to be one of our longer games to create (and play?), though obviously I have no good estimate as to how long it will take. I'm not even sure when it will get started.
One thing I can say for sure, though, is that the game is going to be made in Monocle Engine, a new open source and in-development C++ Game engine. Truly looking forward to working with that.
Cheers!