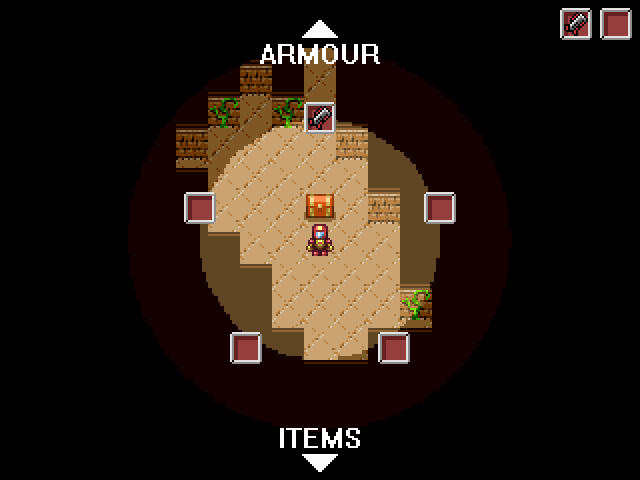 Inventory, at its best
Alrighty, Liam and I have been working on this game on and off the last few days. Liam has bee spriting some of the bad guys, inventory items, and a new player sprite (not yet seen in the screenshot above), and I've been working on getting the player to run around the dungeon(s), and open up his inventory.
So, as you can see in the above screenshot, the Inventory is a rotatable circle with a bunch of item slots in it. By hitting the up/down key, you can slide the Armour, Weapon, and Item menu in/out (currently in view is the Weapon menu). Each menu has 4, 5, and 8 slots, respectively (armour/weapon/item). The currently selected item is the one in the top slot, and by hitting right/left you can rotate the entire menu so that a different item is in the top slot. You can only have one weapon/armour equipped at one time, and items you use as soon as you select them (by hitting X) in the menu.
Currently, we are still unsure as to what kind of weapons, armour, and items you will be able to collect in the game, but we're thinking that armour will include a few sets of actual armour (that stop certain types of damage), and maybe things like charms and bracelets that allow you to move faster (like the magic equipment you find in roguelikes). We still need to think up some weapon ideas, but we have 2 so far. One you can see in game, above, which is just a general blaster gun. You hold X to charge it up, and then release the key to blast a wave or burst of something that hurts badguys. The other item is still a secret.
Lastly, in terms of Items, we're thinking of having potions.. and … other things? Honestly not too sure yet.
Anyhow, that's pretty much it for now… We've been a bit busy the last few days (going to SNES parties and such) so haven't made a ton of progress, but it's coming along!